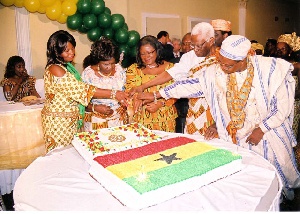 Wed, 6 Jun 2007 Source: Ghanaian News Canada
The Ghanaian Canadian Association of Ontario (GCAO) organized a big dinner cum dance, full of cultural pomp for Ghanaians and well-wishers living in Toronto as part of the activities to mark Ghana's 50th Anniversary celebrations in the city. An overwhelming number of about thousand people attended the dinner. They included political dignitaries, chiefs, pastors, professionals, churches, ethnic organizations and musicians mostly clad in Kente and other traditional cloths.

The function took place at La Vita Banquet Hall on March 31, 2007. The guest speaker was H.E. Mrs. (Dr.) Margaret Ivy Amoakohene, Ghana's High Commissioner to Canada. She used the occasion to congratulate all Ghanaians and Africans on Ghana's Golden Jubilee Anniversary. The High commissioner said that the celebration was not only for Ghana but also for the whole of Africa. She explained, "March 6, 1957 changed the outlook of our continent and its status and role in the world forever. The African on the continent, who for centuries had been violated and subjugated through the Slave Trade, and colonialism, on that fateful day succeeded in breaking asunder the chains of bondage."


She praised the first President of Ghana, Dr. Kwame Nkrumah and his compatriots for working hard to form the Organization of African Unity (OAU) which is now replaced with a new continental organization, the African Union.


H.E. Mrs. (Dr.) Amoakohene, on behalf of the President of Ghana, urged the young people of Africa to resolve to stay at home using their energies and their enthusiasm to serve Africa.


Earlier, Prof. George Dei, a past president of GCAO had appealled to Ghanaians in Toronto to fund a project by the Association to acquire a community center for Ghanaians in Toronto to be known as Ghana House. The Minister of Citizenship and Immigration for Ontario, Hon. Mike Colle who was present at the dinner announced his government's contribution of $20,000 towards the acquisition of the Ghana House.

Also, David Singh a Toronto based businessman who supported the banquet with $20,000 told the diners that he has donated 50 hospital beds and an AIDS mobile van for testing HIV/AIDS to be sent to Ghana.


The Education Council of the Ghanaian SDA Churches in Toronto was recognized at this function for its effective educational program for the Black Youth in Toronto. Chiefs in their full regalia and the Ewe Cultural Drummers as well as the guard of honour mounted by the Ghanaian Old Servicemen Association of Toronto added dignity and cultural elegance to the function. Music for dancing was provided by Pat Thomas and a Toronto based band led by Sam Tee.


M.C.s for the program were Ms Anna Aidoo and Mr. Agyekum.

Source: Ghanaian News Canada
Related Articles: