Business News Wed, 30 May 2018
Click to read all about coronavirus →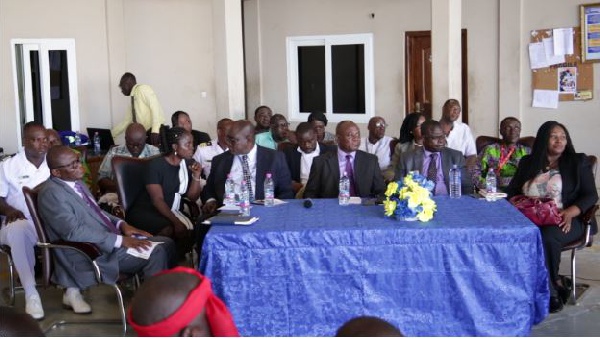 The Director General of the Ghana Ports and Harbours Authority, Paul Asare Ansah has engaged staff of the Port of Takoradi and assured them of job security as the Port goes through massive transformation.
The durbar provided a platform for the Director General and management of the Port Authority to share their vision to the staff as well as address some staff challenges, if any.

According to Paul Ansah, the capacities of both the Tema and Takoradi Ports are being expanded to support the national economy.

"Ghana is likely to become the fastest growing economy in the world, and without a competent and efficient port, such growth, is not possible. And so, I believe that the port industry is fulfilling its mandate for which it was established," he stated.

He said the Port's activities would be diversified to accelerate the growth of export, transit and transhipment.

The Director General said the port authority is investing in oil and gas infrastructure in both Tema and Takoradi Ports to turn Ghana into an oil and gas hub in the West and Central Africa sub region.
"Already we have had strong interest being expressed by Niger and Burkina Faso for the establishment of tank farms, to accommodate fuel that would be evacuated to Niger, Mali and Burkina Faso. Port of Cotonou is very strong as an oil and gas hub for Niger, but we will take that status from them," Paul Ansah asserted.

Paul Ansah said he is optimistic that the trade deficit between export and import would be addressed so as to rake in the necessary revenue for the state.




He said "some critical interventions have to be rolled out to make sure that we balance our trade between import and exports. That is how the economy can be sustained because the rate of consumption of foreign imports compared to the rate of exports, cannot sustain any economy."

He said measures are in place to have cruise and passenger terminals developed to tourism attractive through the Ports.
He said the construction of the new Takoradi road which had been in a deplorable state for a long time has gone a long way to facilitate the movement of people and traffic from the port to their destinations.

"I was very happy when I saw the new state of that road which would go a long way to facilitate the movement of people and traffic from the port to other places they are designated to go," he noted.

He said GPHA's 30% shares in Meridian Port Services has been restored after it was changed to 15%.
Source: Eye on Port
Send your news stories to and via WhatsApp on +233 55 2699 625.