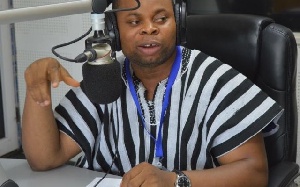 Policy think tank IMANI Ghana has questioned the Bureau of National Investigations' motive for exonerating Bulk Oil Storage and Transportation Company Limited (BOST) MD Alfred Obeng Boateng of any wrongdoing in the sale of contaminated fuel ahead of a ministerial committee set up by the Ministry of Energy to investigate the matter.
The MD came under attack with calls on him to resign over the decision to sell five million litres of contaminated fuel to Movenpiina, a company without NPA licence and said to have been incorporated a month after it negotiated the deal with BOST.

However, the BNI said it found nothing wrong with the sale of the contaminated fuel to Movenpiina.

But reacting to the BNI report, the President of IMANI Ghana, Franklin Cudjoe, said it was alarming for the BNI, which is part of the ministerial committee set up to investigate the circumstances surrounding the sale of the contaminated fuel, to quickly exonerate the MD while the committee is yet to conclude its work.

He described the move by the BNI as "juvenile", "delinquent" and "laughable".
Speaking to Moro Awudu on the Executive Breakfast Show (EBS) on Class91.3FM on Thursday, 6 July, Mr Cudjoe said: "The BNI is said to be part of the committee that the Energy Minister set up to investigate. So as to why they would come up ahead of the Energy Ministry, that's another matter that ought to be discussed. It looks as if the BNI's role, I don't know what type of reference was given them, but it looks as if they only came to say that an individual was not culpable in this so-called contamination which I think is fraud. I think it was deliberate by the way. So we should be more alarmed that ahead of the committee's report, a member of the committee would come up and say that they think that someone else is not culpable and I'm not too sure that it's a wise decision to make at all."

To this end, Mr Cudjoe has called on government to initiate a fresh probe into the sale of the contaminated fuel by BOST.