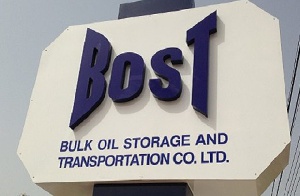 The Bulk Oil Storage and Transportation (BOST) is claiming the controversy surrounding the contaminated fuel deal is being fuelled by insiders to cover-up financial malfeasance against its former MD Kingsley Kwame Awuah-Darko.
BOST in a statement said the current MD Alfred Obeng is investigating Awuah-Darko over a rot which left about $300 million debt at BOST, but the former's detractors are using the contaminated fuel sale to distract public attention on the latter.

Five million litres of fuel product was declared off-spec after going through an in-house technical assessment and a laboratory test by the Tema Oil Refinery. It followed what BOST termed as "human error" which led to the contamination of the product which is said to have resulted in ?7 million loss of revenue to the state.

However, the Minority led by a former Energy Minister Emmanuel Armah Buah said the "financial loss estimated at GHS 14.25 million be retrieved by surcharging the offending officials at BOST in line with the recent Supreme Court decision."

BOST in a statement dated June 27, 2017 said the Minority is resorting to propaganda to divert attention.
"The Minority's assertion that the MD of BOST should be interdicted is baseless and unfounded. It is a political plan to divert the new MD's attention from dealing with the rot of his predecessor, Mr. Kingsley Kwame Awuah-Darko, which has left BOST with a debt close to $300,000,000."

Below is BOST's full statement: