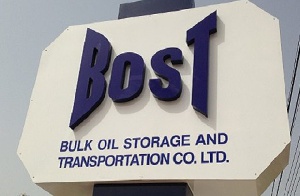 The Majority in Parliament has described as ridiculous calls for the interdiction of the MD of the Bulk Oil Storage and Transportation (BOST) company, Alfred Obeng, following disclosures that he sanctioned the sale of contaminated fuel to two companies operating illegally in Ghana.
They are Movenpiina and Zup Oil.

The Minority at a press conference called for the interdiction of Mr. Obeng, over the dirty oil sale saga.

According to the opposition National Democratic Congress (NDC) lawmakers, the transaction has led to a financial loss of GH¢14.25 million to the State and the MD of BOST must pay the amount.

Addressing the press conference Tuesday June 27, a former Energy Minister Emmanuel Armah Kofi Buah said the transaction lacks integrity and transparency since it was shrouded in secrecy.

"The claim by BOST that this contaminated fuel was sold at a competitive ex-depot price is false and can't be justified," Buah stated. "When was the competitive bidding process initiated and who were the companies that participated?"
He added: "The evidence available confirms that Movenpiina Energy was the only company BOST dealt with in the sale of the contaminated product in a sole source transaction."

But in a counter press conference Friday, June 30, 2017, addressed by Emmanuel Gyamfi, acting chairman for the Energy Committee of Parliament, the Majority dismissed the interdiction call by the Minority as unwarranted.

He said the 5 million litres contaminated fuel was detected January 18, 2017, some 11 days after swearing in of President Akufo-Addo and that Mr Boateng was not in office then.

Per investigations by BOST management before Mr. Boateng took over, it was established that the contamination of the fuel was a human error and that four staff who was in charge of operations then were interdicted, said Mr. Gyamfi. Hence, Mr. Boateng cannot be faulted for the contaminated oil saga, he added.

Meanwhile, the Energy Ministry has set up an eight-member committee to investigate the circumstances leading to the sale of the contaminated fuel. The Committee will be chaired by the sector Minister, Boakye Agyarko.
The membership of the committee is made up of officials drawn from the National Petroleum Authority (NPA), Ghana Standards Authority, Civil Society Groups and other stakeholders.

Amidst the back and forth BOST staff have thrown their weight behind their embattled boss.

Clad in red arm bands in a show of support for their MD Thursday they stated that allegations against Mr. Boateng are a deliberate attempt to tarnish his image and distract him from the ongoing probe into shady deals undertaken by the previous administration of BOST.

Secretary of the unionized staff of BOST Newton Amo who addressed journalists said BOST had sold contaminated fuel several times in the past without any brouhaha.

"We believe that this misinformation is a deliberate attempt to destroy the integrity of the MD and most importantly stop the MD from going ahead with ongoing probes in the numerous malfeasance in previous contracts," he said.