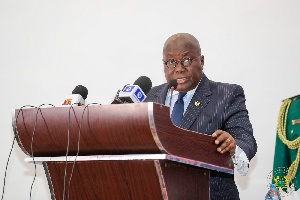 The leadership of the Ghana Society of the Physically Disabled (GSPD), has expressed disappointment in government for neglecting competent and qualified members of the association to serve in the current administration contrary to its campaign promise.
"We are much disappointed in President Akufo-Addo and the New Patriotic Party for neglecting our members in the appointment of persons to become MMDCEs in government", local president for GSFD, in the Ejuisu/Juaben lamented

GSFD bemoaned the non inclusion of persons with disabilities in government reminding the President of promises made to them in the run up to the 2016 polls.

"Out of the two hundred and seven positions, only a member has been nominated to serve in government despite promises to increase persons with disability quota in government", he observed .

They therefore appealed to President Nana Addo Dankwah Akufo-Addo to acknowledge their presence so that they can also contribute their quota in building the country despite their predicament.

"It is sad it appears that my own government has neglected members who voted to ensure NPP take political power from then ruling National Democratic Congress (NDC)", Mr. Kwaku Ntim Twumasi, chief patron of TESCON of Spiritan University College bemoaned.
"We want government to fulfill it promises to us", he appealed at the 37 Biannual Conference Celebrations for members in the municipality.

According to him, the two percent Common Fund allocated to persons with disability in every district in not enough as their number keeps complaining daily.

"Every day people find themselves incapacitated joining the Association. …the money is too small and we want government to increase it for us", Mr. Kwaku Ntim stated.

He also expressed regret in the mode of disbursement explaining that lateness is affecting operations of members.