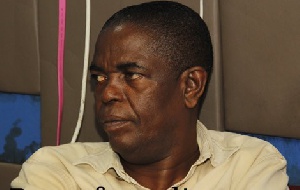 Kwesi Pratt Junior, Managing Editor of the Insight Newspaper has described as a "useless enterprise," debates on the performance appraisal of ministers initiated by the Policy Unit at the Presidency.
The appraisal is in line with the policies and programmes outlined by the ministers in their presentations to the President some months ago. The ministers have submitted reports to the Policy Unit at the Presidency on what they have been able to achieve in the year 2013.

But some members of the opposition New Patriotic Party have rubbished the performance appraisal describing it as cheap populism by the Mahama-led administration.

Government communicators also responded, defending the policy which according to them, shows that the President does not believe in sycophancy and nepotism.

Speaking on Radio Gold's current affairs programme, Alhaji and Alhaji with Alhassan Suhuyini Saturday, Kwesi Pratt bemoaned the attention that the appraisal of ministers has attracted in the media.

"We spend too much time in this rather needless topic. There has been so much noise everywhere about this appraisal of ministers…what is the point? Where in the world is there no appraisal? Unfortunately, everybody is falling victim to this useless enterprise," he bewailed.
He said there are pressing social issues that should be discussed in the media rather than the appraisal of ministers which is a "normal thing."

"Ministers have been appointed to do the things that we want…clean water to drink; we want to be able to send our children to school so that they can grow up to become good doctors, engineers and so on. That's what we want! We want our moneys to work for us and not stolen. The criteria is clear. What criteria again do you want?" he quizzed.

The Insight Managing Editor also blamed government activists for engaging in discussions related to the appraisal of ministers.

On his part, ambassador designate, Sam Pee Yalley, urged government to use the feedback obtained from the performance appraisal to evaluation the performance of ministers and identify shortcomings of the current administration for accelerated development.