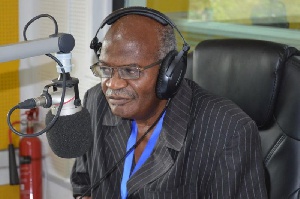 A renowned Academic with a career spanning over forty years, Professor John Bright Aheto has blamed the gap in the nation's development on the dishonesty of Ghana's elite.
Speaking on the Morning Xpress on Radio XYZ, the vastly experienced and well travelled Prof. Ahetor hinted of doom for the country as the actions and inactions of the nation's elite continue to lead to the rise in a number of vices, especially corruption.

Professor Aheto observed that many people have been misled by people they assume to be the nation's elite because of their academic titles and credentials when in actual fact they may not have practical, relevant and in-depth knowledge in the areas of presumed expertise.

He said the inability and apparent lack of desire on the part of the elite to consult the "grassroots" and experts on issues before taking major decisions have brought about many development challenges in the country.

He refuted the ideology that people with high academic qualifications are competent to lead development and asked the public to look out for practical experience, humility and above all integrity in the elite.

He described most people in the elite class in the country as lacking integrity because they do not admit their ignorance on certain issues, portraying themselves to be knowledgeable in every area.

He deems people who are honest to declare their ignorance and refer matters to experts as those who are actually worthy of the title, "Elite". Such people, he said, typically have the interest of the people at heart.
Making references to the early days after Ghana's attainment of Independence, Professor Ahetor described the Ghanaian society as being one where cultural values were cherished, noting that "the core values we had as a country were embedded in the indigenous cultural system that has been neglected."

To him, the neglect of these cultural values is the reason why people grow to be dishonest and integrity is lacking in governance and in the general populace at large.

Prof. Ahetor strongly opined that the breakdown of the traditional Ghanaian family system is leading to growing individualism and a departure from African values.

According to him, the indigenous family system laid emphasis on togetherness and protecting one another such that everyone in a community was more concerned about the development of the community than personal enrichment at the expense of the community.

Speaking with passion, Prof. Ahetor shared his vision to see the family system grow as strong as it used to be, with individualism diminishing.

This, he believes, would help to restore positive values in the Ghanaian society thus leading to the building of honest and sincere leaders to lead in all spheres of Ghana's national life and who would prioritize the improvement of the well-being of the populace.