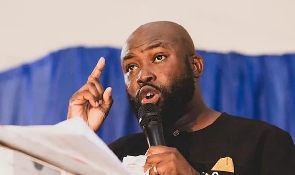 The Ghana Individual Bondholders Forum (IBF) says it finds it unfortunate and unfair, the attack targeted at its lead convener, Senyo Hosi by the Individual Bondholders Association of Ghana (IBHAG).
According to IBF, the accusations made by IBHAG against the convener following their recusal from the government's Domestic Debt Exchange Programme (DDEP) are rather false representations which are detrimental to the collective effort of the committee.

"The IBF therefore considers the statements from the letter, attacking the personality of Senyo Hosi unfortunate, inaccurate, unfair, and dishonest. The ideas and proposals tabled by Mr. Hosi at the meetings with MoF (all of which have been public) have been concepts prior discussed and approved by the relevant committees of the IBF. These proposals were also prior discussed with

the leadership of the IBHAG.

"We find the false representations of IBHAG an affront to the collective effort to ensure that the GoG honours its commitment to individual bondholders whose coupon and principal payments have not been honoured since they became due," the forum said.

The statement by IBF follows a statement issued by IBHAG announcing their exit from the committee over claims that the convener of IBF has become an appendage of the government in their efforts to secure the payment of their principals and matured coupons.

IBHAG in the statement issued by lawyer Martin Kpebu criticized Senyo Hosi, for his wavering views and alleged closeness to the Ministry of Finance.
"Senyo Hosi of IBF, appears to be an appendage of the Ministry of Finance; doing its bidding. This is supported by the wavering views, which departs completely from the past collective position of individual bondholders. Private meetings between Senyo Hosi of IBF and the Ministry of Finance, are not the solutions to the concerns of Individual Bondholders whose coupon and principal payments have been in arrears for over two months," he said.

But responding to the allegations, IBF rejected the allegations while emphasising its confidence in the leadership of their convener.

"The IBF with its over 340,000 members has no objection to IBHAG recusing itself from the Technical Committee. Our primary objective is to continue the engagements with the MoF to secure full and final closure to the issue of coupon and maturity payments for individual bondholders and collective investment schemes that chose the option to self-exempt under the DDEP. We expect that the Technical Committee will submit its report by Wednesday 26th April 2023 after which we will hold the Government to account on all agreed deliverables.

"We reaffirm our confidence and trust in the leadership of Senyo Hosi. We will continue to work assiduously to advocate for, and effectively represent the interests of, individual bondholders and collective investment schemes notwithstanding the advocacy group they decide to be part of. We welcome collaboration with all honourable groups and persons who share in the vision of IBF," it added.



GA/SARA