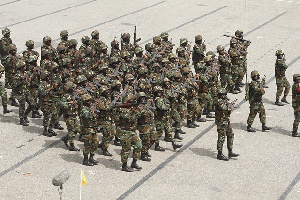 Some of the military recruits who were dismissed for misbehavior and threat to national security are still appealing to authorities to address their concerns.
The 501 recruits were undergoing six-month recruitment training at the Army Recruits Training School (ARTS) at Shai Hills, Accra. They were to be absorbed into the Ghana Armed Forces (GAF) after training.

But they were sacked for joining an unauthorized assembly in 2015. They have also been barred from joining any other security agency as a result of their action.

Joining Kwame Tutu on Rainbow Radio 87.5Fm today [Friday] April 22, 2017, seven of the recruits complained bitterly that, they are facing extreme difficulty two years after their dismissal. Preventing them from joining other security services they lamented, is also another blow for them.

They insisted that, they never engaged in an unauthorized assembly as suggested. ''We have no one speaking on our behalf. We have written petitions but we have not heard from anyone.

Things are extremely hard for us. We are therefore appealing to President Akufo-Addo intervene. We cannot even join a private security because of the situation.
We have no hope and so what we can only do is to appeal to the president to help us.'' Meanwhile, the Nkoranza North MP and Deputy Defence Minister, Major Derrick Oduro said, the mutiny staged by the recruits was a serious offence under military training.

He said, a board of enquiry was constituted and after investigations were conducted, the recruits were asked to go home. Some of them did not partake in the exercise however, they have also been affected, he said.

He revealed, the recruits have petitioned the Defence and Interior Committee but advised them to copy the Speaker so he will refer the case back to the committee for further action.

He said, ''the dismissed recruits cannot join any security service and that is a serious burden on them...I will however encourage them to copy the Speaker with their petition.''