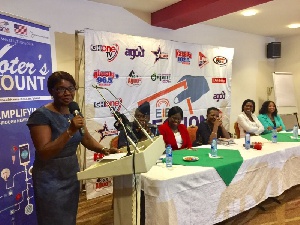 The National Commission for Civic Education (NCCE) says it cannot be blamed in any way for the disqualification of any candidate by the Electoral Commission from the upcoming elections.
Disqualified candidate for the All People's Congress, Hassan Ayariga on Wednesday had blamed the NCCE for failing in its role of sensitizing the public on electoral laws such as engaging in double subscription of which he has been a victim.

But the Communications Director of the National Commission for Civic Education, Joyce Afutu has rejected his claim saying they "have nothing to do with nomination of candidates; it is the work of the Electoral Commission."

"We have done education several times over the years but there are people who are recalcitrant and will go ahead to double vote or go against the law. That cannot be blamed on us," she said at the opening of a three-day workshop on data journalism for some selected media personnel organized by the EIB Network, Penplusytes and the US Embassy in Accra Thursday.

"He [Hassan Ayariga] was also supposed to have seen when the people subscribe to his forms and that is the criminal aspect the EC has taken him on. He should have done that," the NCCE spokesperson charged.

Ayariga accuses NCCE
On Wednesday, Hassan Ayariga in reference to one of the reasons for his disqualification from the December 7 polls which stated that some of his subscribers had signed for two candidates, laid the blame at the doorsteps of the NCCE which previously had Charlotte Osei, the current Chairperson of the Electoral Commission as boss.

"Giving the benefit of the doubt that whatever the Electoral Commission said was true, I am coming from the PNC and there are members of the PNC that have moved to ignorantly do these common mistakes.

"But it is the duty of the NCCE to have educated the people on how to subscribe. For us, that fault lies with the NCCE which Madame Charlotte Osei was a former boss," he stated.

"Today, she is the EC boss so if those common mistakes are happening, then it means that as NCCE boss, she didn't do a good job because if she had done that, we would not find such cases," Ayariga added.

The APC is contesting the disqualification of its presidential candidate from the polls at an Accra High Court.