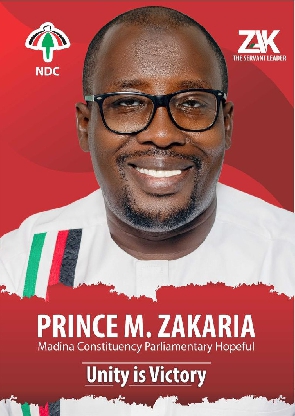 The United Front Party (UFP) has petitioned the National Democratic Congress (NDC) to disqualify its former General Secretary, Prince Moses Zakaria from contesting in the Madina Constituency parliamentary primaries of the largest opposition party.
UFP in a statement dated Wednesday, March 29, 2023, and signed by its leader and founder, Dr Nana Agyenim Boateng said the character of the former secretary who remains on the record of the party as a member raises concerns of disloyalty.

"We also wish to, as a Party, warn and urge the NDC not to entertain persons such as our former General Secretary, Mr. Prince Moses Zakaria, who we hear intends to contest for the Parliamentary seat of the people of Madina on the ticket of the NDC.

"Mr. Zakaria, our immediate-past General Secretary, was dismissed for anti-Party conduct due to his affiliation with and leaking of sensitive information to the NPP. Until we removed him as a General Secretary of our Party, he worked against the NDC.

"We also do not have any record of him having officially resigned from our party as a member. It is for this reason that his nomination was a shock to us as a party.

"Such character and conduct from an individual who in our books remains a member of our Party gives cause for concern and leads to situations of party disloyalty, part of which is being witnessed with the current challenges of the Minority Group in Parliament.
"The NDC must not allow and tolerate such individuals, as it our duty to restore and reward values of truth, integrity, honesty, loyalty, and selfless service, to our body politics.

"As a Party, we have officially Petitioned the NDC leadership in respect of this matter and are available to provide further evidence if need be," the statement said.

The National Democratic Congress is currently in the process of electing its flagbearer and parliamentary candidates for the 2024 general elections.

The party has slated May 13, 2023, to conduct the keenly-awaited primaries.

According to UFP, its support as one of the smaller political parties in the country remains with the NDC.
"We wish to state emphatically that until such a time that all smaller political parties can form a major third force, we wish to render our unflinching support to the opposition National Democratic Congress (NDC), as the time to rescue Ghana is Now!" it said.

Read the full statement below:



Watch the latest episode of The Lowdown below:


Meanwhile, catch up on the concluding part of Francis Addai-Nimoh's interview on GhanaWeb TV below:





GA/SARA