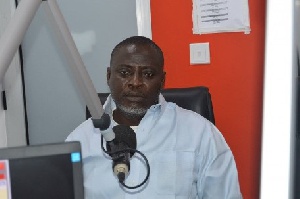 New Patriotic Party stalwart, Omari Wadie has urged the opposition not to feel threatened by the special prosecutor who is about to assume office.
Omari Wadie, indicated that if the opposition National Democratic Congress had done nothing wrong, then they have no cause for fear, Since the special prosecutor is here to tackle corruption in the system.

Following the passing of the special prosecutor bill by Parliament of Ghana, President Nana Addo is yet to name the lawyer who is set to occupy that position.

The special prosecutor's bill following its passing in parliament has faced various setbacks before it finally got the green light on Tuesday, Nov 14, 2017.

The president upon assuming office decided to open the Special Prosecutors' office to tackle corruption cases in the country.
Funny enough, prior to the final passing of the special Special Prosecutors bill, both the government and opposition have been accusing each other on who the special prosecutor will deal with.

However, the National Democratic Congress has also warned that the government dare not use the Special Prosecutors office as a base for witch hunting.