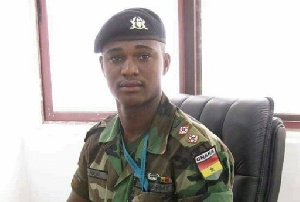 The General Overseer and founder of the 12 Apostles Church, Koforidua, Prophet Joseph Adu has added his voice to the killings of security officers underscoring the need for culprits to be punished.
The man of God says the offenders especially those who gruesomely murdered the late Major Maxwell Mahama should not be spared.

According to him, investigations into these killings should be done diligently with enough evidence gathered to ensure that the offenders are properly punished.

Speaking to Rainbow Radio's Banahene, he said, the impunity and lawlessness in the country should be dealt with before they get worse.
The judiciary he emphasized must be firm and work devoid of any politically manipulation so citizens will trust the institution.

He called on the president to crack the whip on lawlessness so law and order will be maintained.

He further advised the various law enforcement agencies to be up and doing considering the level of lawlessness in the country.