Do you want someone to die before you do something about Vandals, Vikings? - Nana Akomea questions students, authorities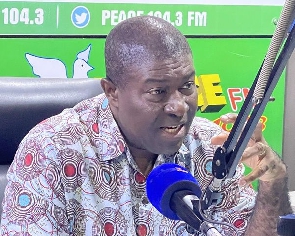 Nana Akomea, the Chief Executive Officer of the Intercity State Transport Corporation (STC), has admonished students of the University of Ghana to cease fighting and engaging in violence on campus.
Nana Akomea bemoaned the clashes between the students, particularly the residents of the Mensah Sarbah and Commonwealth Halls, as he stressed that the inter-hall fights leave a dent on the image of the University.

He also feared these clashes might some day result in serious injuries and worst cases as deaths.

The STC Boss recommended that these male halls like Mensah Sarbah hall and Commonwealth hall should be turned into mixed halls to help check the excesses in the behavior of the residents.

Nana Akomea further charged the University authorities to take immediate steps to nip this situation in the bud.

"The hall people themselves should understand that, as we move forward, some of these things have to be modified. We say we want to make you mixed but you have refused to accept it. The University has condoned it but as you keep fighting...Do you want someone to die before? Is the University waiting for a student to die before?", he said during "Kokrokoo" on Peace FM on Tuesday, January 10, 2023.

His call comes on the heels of recent violent confrontation between the residents of the Commonwealth Hall who call themselves 'Vandals' and the Mensah Sarbah (Vikings).
Following the incident, the management of the University revoked the residential status of continuing students of these halls but the students have vehemently protested this decision.

"All continuing students of Commonwealth Hall and continuing male students of Mensah Sarbah Hall will not return to these halls or any of the traditional galleries. They are to be randomly assigned to available rooms in any of the UGEL and private hostels.

"Beginning from the 2022/2023 academic year, only Level 100 and graduate students (Masters and Ph.D. level) will be assigned to Mensah Sarbah and Commonwealth Halls. Subsequently, undergraduate students will vacate the halls at the end of Level 100 and may secure accommodation in the private hostels from Level 200 until completion," UG management said.

But students of the Commonwealth Hall of the University on Friday, January 6, 2023, filed a lawsuit against the University.

An Accra High court has placed an interlocutory injunction on the residential policy decision by the University of Ghana (UG).

"IT IS HEREBY ORDERED that the Defendant herein is hereby restrained either by itself or its officers, assigns, privies, agents, workmen, or anybody working under the Defendant's instructions from going ahead to implement the decision of the Defendant, dated 26th October 2022 in respect of the residential policy decision affecting continuing students of Commonwealth Hall, University of Ghana. The status quo must be maintained, as it used to be before the 26th October 2022 decision."