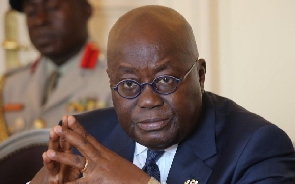 Member of Parliament for Ningo Prampram Constituency, Sam Dzata George, has questioned the government's delay in establishing an RTI board to commence the implementation of the RTI bill.
He believes government does not need that much time since it was quick to establish a board for the COVID-19 Trust Fund.

Sam George queried, "Does the president need 1 year to establish an RTI board? How long did he take to establish the COVID-19 trust fund? When he signed the bill he said it's going to take a year to implement. Now it's been one year three months and the president cannot even set up a board."

The Ningo Prampram MP narrated an instance where MP for Ashaiman, Enerstina Dogbe, was turned down when she requested some information from the Electoral Commission.
"Recently when MP for Ashaiman, Enerstina Dogbe wrote to the EC requesting for information, they gave an excuse that they don't know the fee and charges. If in one year and three months, they can't name individuals to a board, for them to bring before parliament, fees, and charges, then I don't know what they are doing," he stated.

He added that the president fears that some information if discovered, might go against him since it's an election year.

"The president is afraid that the RTI will be used to demand information in this election year and expose the rot in his government," he established.