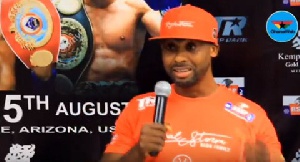 Paul Dogboe, father and trainer of boxer Isaac Dogboe says there's no truth in rumours of a third fight between his son and Mexican boxer Emmanuel Navarette.
Dogboe has suffered two defeats at the hands of the Mexican with the second bout ending in a dramatic fashion after Paul Dogboe threw in the towel.

Despite the convincing and lopsided beating of Ghana's seventh world title winner, rumours of a third bout have failed to pipe down.

The boxer himself said in an interview last year that he dreams of revenge and is hopeful he will get his chance someday.

"Most definitely, that's what the weight division needs. It needs to be explosive, it needs to be on fire," Dogboe said in an interview.

"When I captured the world title, I made a promise to myself and to the fans that look I am going to make this division exciting and that is what happened. It will be great to face him again in the upper weights. 126, 130, right now we are here with Freddie (Roach) and Freddie wants to make sure that I am in the best weight category.
But Paul Dogboe claims it is the media that is pushing the idea of a third bout.

He interestingly criticized the media for not verifying information before publishing them. He also confirmed that he is no longer his Dogboe's manager.

"For Isaac Dogboe to fight back Emmanuel Navarrette is just a rumour. I have realized that Ghanaians lie too much. Outside they don't do this but they investigate to get the truth before they analyze it to the public. I have seen so many in Ghana.

"For now I don't like to talk about my son because I don't manage and train him again. I don't like to be doing that for now.