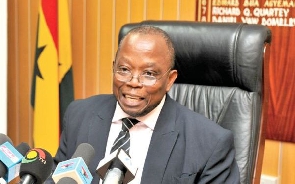 Daniel Yaw Domelevo, the former Auditor-General (A-G) has reacted to the latest A-G report on COVID-19 expenditure spanning March 2020 to June 2022.
Domelevo disclosed in a TV interview (January 23) that he was about to start auditing the COVID expenditure in line with the Constitutional provision as contained in the COVID-19 Act, Act 1013; before he left office.

"I was going to actually audit the COVID funds in 2020 before leaving office. This is because the novel coronavirus Act, Act 1013 requires the Auditor-General to audit the financial statement relating to their revenue and expenditure and report on it within six months after the end of the financial year," he told Joy News.

He praised his successor for what he described as a good report but lamented the fact that massive wastage had taken place and current laws mean consequences are lagging for infractions.

"We were preparing to do that before I left and I must say that I commend the Auditor-General and his team for the work done.

"I must say that it is sad that we are seeing this level of wastage at a time where there is no fiscal space as a result of which even people who lent money to government cannot be paid.
"We should be doing more, there should be consequences for these infractions. If we do 1000 audits and there are no consequences people will continue with this impunity," he lamented.

Auditor-General's report on COVID-19 spending

The Auditor-General released a report on government's expenditure during the COVID-19 pandemic covering the period between March 2020 to June 2022.

The special audit report has been prepared under Section 16 of the Audit Service Act, 2000 (Act 584) for submission to Parliament.

It detailed the various expenditure made by Ministries, Departments, and Agencies during the aforementioned period.
The report noted that records on COVID-19 funds at the Ministry of Finance, Controller and Accountant-General and Ministry of Health indicated that, the Ministry of Finance mobilised a total amount of GH¢19,112,318,205.12 in 2020 to mitigate the impact of the COVID-19 pandemic.

The records showed that an amount of GH¢1,978,551,137.46 was mobilised in 2021 and GH¢753,319,842.66 (up to June 2022) to finance the Coronavirus Alleviation Programme and the implementation of the Ghana COVID-19 Emergency Prep000aredness and Response Plan.

In all, a total amount of GH¢21,844,189,185.24 was mobilised to mitigate the impact of COVID-19 pandemic in Ghana.

SARA/DO