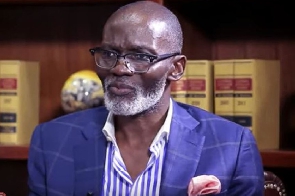 President Nana Addo Dankwa Akufo-Addo's cousin Gabby Asare Otchere-Darko has said the bar has been set too low by the organisers of the maiden Integrity Awards which was used to recognise the contribution of anti-corruption crusaders and institutions in the fight against the menace.
The Auditor-General, Mr Daniel Yaw Domelevo, was named the Integrity Personality of the Year at this year's Award ceremony.

The Ghana Integrity Initiative (GII), the local chapter of Transparency International are the organisers of the event.

While congratulating Mr Domelevo for picking the award, Mr Otchere-Darko, in a Facebook post, said: "The principle of encouraging those we believe are doing well in ensuring value for money in the fight against corruption must be held up high".
"But, if saving the nation 'GHS60m' is what qualifies a public servant or a patriot to win then I can think of several ministers, CEOs, media houses (journalists), civil society groups, who have done much more and saved the nation more. The bar is far too low."