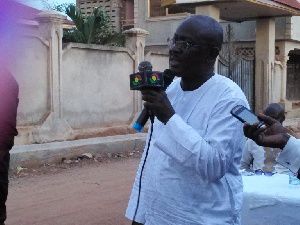 Deputy Chief-of-Staff in erstwhile John Dramani Mahama's government John Osei Kofi has urged the ruling New Patriotic Party (NPP) to accept full responsibility of the country's current economic hardship and cease blaming it on previous National Democratic congress (NDC) led administration.
The KNUST lecturer want the ruling government led by President Nana Akufo Addo and Dr. Mamudu Bawumia head of the economic management team to apologize to Ghanaians for lying their way into power associated with rush and unplanned implementation of pro-poor social intervention in education sector among others which is crippling Ghana's once growing economy.

According him, the state of the economy clearly vindicates Mahama led NDC government of managing the economy better than what the current government of the day is struggling to achieve.

Addressing Kwame Nkromah University of Science and Technology (KNUST) TAIN members over the weekend to welcome new TAIN members on campus, he told the student body that, the governments restoration of teacher and nursing trainees allowance is just a policy on paper which is yet to reflect on daily lives of beneficially as government struggle to pay their 5 months allowance in arrears.

"I always laugh when I hear the NPP blaming the country's economic hardship on external international shocks, who said the NDC never faced similar challenges. The excuses that they have now cannot be accepted now because they refused to accept the same excused we gave some years ago'' he said.
He added " I always feel sad when I hear their fragile excuses for their bad governance. When you asked them why haven't you paid teacher and nursing training allowances for the last five months they will tell you the NDC people chop all the money, which money did we chop'' he asked.

Mr Osei Kofi stressed that the underperforming NPP government wants to always create the impression that to Ghanaians the NDC never did anything good for the country.

" The ruling government should take note that, Ghanaian are fed up with these excuses, the way we really suffered and sacrificed for the country the NPP has no idea about it. We also suffered the external shocks as they are facing today but they never accepted any sacrifices we made for the nation. We don't talk much because we are very sensitive in responding to what our colleagues politicians say about us with insults and name calling. We will show them their real size when we start campaign towards election 2020 with all the lies they told about NDC prior to elections 2016. You see how social media is exposing them, the real action will start soon'' he assured.