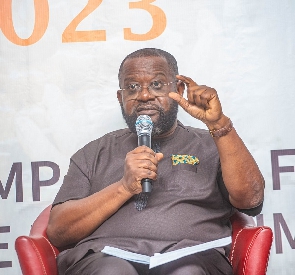 Private legal practitioner, Kwame Jantuah, has called on government to be vigilant and ensure that foreign companies do not collapse local businesses.
He said inasmuch as these foreign companies will employ Ghanaians, it will not match the number of people that would be pushed out of business.

Speaking on Eyewitness News following complaints made by the Tankers Owners Union on the influx of Chinese trucks in Ghana's oil downstream space, the private legal practitioner stated categorically that government must not entertain foreigners in that space.

He explained that once the Chinese take maximum control in the downstream sector, local companies such as GOIL will collapse.

"The downstream industry is one part of the oil value chain that has a lot of Ghanaians in there and so we must not entertain foreigners in the space. The Chinese just don't do anything for nothing," Kwame Jantuah said.

He added that, "They want maximum control to put in a refinery, they want to go into haulage, if they go into haulage, the next thing you will see will be petrol garages and the moment that happens, the local industry and companies like GOIL will be dead.
"We must prioritise local companies and not necessarily allow foreign companies to come in and kill local companies. The quantum of people that will go out of business will be more than the number of people that they will employ and the profit they will be making will be repatriated back to China the repatriation will be done in Dollars and this will put a strain on the Ghanaian economy," he stated.

Tanker Owners Union bares teeth at government over Chinese trucks

It would be recalled that on Thursday, September 21, 2023, the Executive Secretary of the Tanker Owners Union, Ignatius Koku Doe, raised concerns over the influx of tanker trucks owned by Chinese companies.

According to him, about 300 tanker trucks have so far been imported into the country.

Mr Doe noted that though the union has informed the National Petroleum Authority (NPA) which is the regulatory body, no concrete step has been taken.
Speaking on Adom FM Dwaso Nsem, show monitored by GhanaWeb Business, he said their businesses risk collapse if relevant stakeholders do not take immediate action.

"We discovered these tankers have been brought in by Sentuo Refinery, which is about to start the production of oil and gas. Already, the union members own about 5,000 trucks, and bringing in new ones to do the same job as ours will only create unhealthy competition," he lamented.

Mr Doe, therefore, appealed to government to intervene to ensure Sentuo focuses on production and leaves the transportation of the products to the tanker unions.

SA/NOQ

Ghana's leading digital news platform, GhanaWeb, in conjunction with the Korle-Bu Teaching Hospital, is embarking on an aggressive campaign which is geared towards ensuring that parliament passes comprehensive legislation to guide organ harvesting, organ donation, and organ transplantation in the country.
Watch the latest edition of BizTech and BizHeadlines below:





Click here to start the nomination process for the 2023 GhanaWeb Excellence Awards