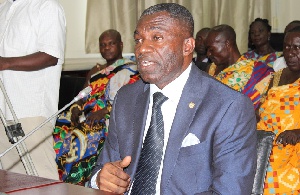 The resignation by the Deputy Agricultural Minster, Hon. William Qauitoo has been described as a good omen to Ghana.
In view of this, government should count that as an opportunity to reduce the number of Ministers from 110 to 109.

Failed New Patriotic Party (NPP) , Builsa North parliamentary hopeful in the 2016 primaries, Listowell Yesu Bukarson, believes that there is no need to appointment another Minster to the Ministry.

"In the wake of the appointment of Ministers, Ghana seemingly disapproved of the number of 110 Ministers; there was a lot of hue and cry. The nation thought the numbers were going to drain the nation's coffers. But government made a case for the numbers as it justified the numbers" He recounted.

"Am optimistic that, giving the circumstances under which the Deputy Minister resigned and also that his absence might not necessarily affect the office of the Agriculture Ministry, I feel government must take advantage of Mr. Quaitoo's resignation to reduce the number of Ministers by stopping short of appointing another Minister," he argued.

The former Ashanti Regional Chairman of the Ghana Journalists Association and and Intentional Journalist, described the circumstances that culminated in the Deputy Minister's resignation as very "unfortunate".

Adding that, "It's a lesson to government appointees who take the people for granted".
"Am optimistic that the resigned Deputy Minister only made an unguarded statement for which he has had to pay the price" He said.

"I want to take this opportunity to warn government appointees to be careful and responsible in their comments and attitudes. The sudden pomposity and arrogance that has suddenly crept into government must abate". He warned.

He commended the President, H.E Nana Addo for accepting the resignation letter from the Minister.

"The President's decision to accept the resignation letter of the Deputy Minister without thinking twice is very commendable," he said.

"It only tells that the President will not condone abuse of office. And that for me, is core for governance," he stressed.