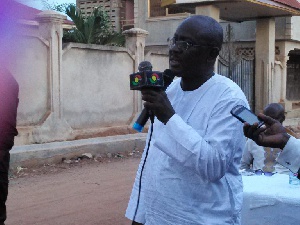 Jonny Osei Kofi, Parliamentary candidate for Oforikrom on the ticket of the ruling National Democratic Congress has cautioned youths against selfish politicians who might want to use them as weapons of violence ahead of the December polls.
The Parliamentary Candidate has urged youth in the constituency not to interact with such politicians who are power thirsty.

He says that some politicians normally take advantage of the election period to recruit youth as agents of violence.

The PC said that such politicians only use youths to achieve their personal political agendas.

"We know it is election time and my appeal is to young people to keep off politicians who might want to use them for the bad reasons," he told party faithful at Deduako on Sunday.

The MP instead asked youths to work with leaders who are keen to promote peace and unity.
He said the country needs peace for successful elections.

Jonny also asked politicians both in government and opposition against making statements that might divide the country.

He said that 'some politicians are already training young people in how to kill, spray pepper, use electric shock absorbers and so on…. others are making inflammatory statements that could easily sink the country into chaos'.

"Politicians across the divide must watch their tongues and commit towards preaching peace and unity across the country," he added.

The Deputy chief of staff asked the security agencies to be alert and take action against perpetrators of hate as the country approaches the general election.