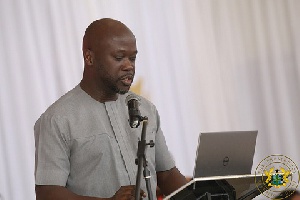 World acclaimed architect, Sir David Adjaye, has asked local architects in the country not to feel threatened by his exploits as there are enough projects in the industry for them to go for.
According to him, the "jobs are there for all the architects to go for" and thus not the case that he was taking up all the architectural projects in the country.

"I'm not going for everything [every project]," he said, "There are tons of work to be done in Ghana".

He noted that "there are hospitals to be built, there are schools to be built, there are roads to be made… and they [local architects] should be going for them".

Speaking exclusively on the 3FM Sunrise morning show Thursday morning, Sir Adjaye however advised them to ensure that they deliver excellent designs when given such projects.

The Ghanaian-British architect grabbed headlines two months ago after it emerged he was behind the architectural designs for the controversial National Cathedral and the new Chamber for Ghana's parliament among others.
His entry in Ghana's industry was criticised by many, particularly local architects, who accused him of 'hijacking' government projects to their disadvantage. They also accused him of not having the requisite licences to practice in Ghana.

Responding to the issues, Mr Adjaye denied the claims, and explained his company was not in Ghana to take all government projects, but to do projects requiring special expertise to deliver.

"I understand that there is a sense that I'm somehow hoovering up work. I have no interest in hoovering up any work. I'm interested in doing work where my expertise is of benefit to the nation," he explained.

The man, who is renowned globally for his iconic architectural designs, underscored the need for the local architects to embrace competition which he described as being "very healthy".

In his view, his presence in Ghana should rather push local architectural firms to grow, saying "…if you have a big fish in a small pond, you will have to then grow your body too".
'They took my money & gave me licence':

On the claims that he has no licences to operate in Ghana, Sir Adjaye said he was "utterly shocked" to hear those allegations.

"They're pure fabrication," he Sir Adjaye stated.

"Why will I come to Ghana and not be registered?" he asked, adding "I'm a professional, I work globally professionally. I work with licences in every jurisdiction that I work in the world. Why will I not do that when I came to Ghana?"

Securing the necessary licences, he said, "was the first thing we did when we came to Ghana".
"We registered with the GIA [Ghana Institute of Architects]; we are registered with the Architect Registration Board. We made sure that all those things absolutely clear," he added.

"It's very surprising," he said, "because they take our money and they gave us the licence so I don't understand where the complaint is coming from".

According to him, unless there are other licencing regimes that he is not aware of, he has satisfied the requirement to operate in Ghana.

Sir Adjaye thus described the allegations as "moot", revealing that he "was very shocked that this was an accusation and it was hurtful actually".

Meanwhile, he said the argument that he need to partner a local architect in Ghana does not suffice because he is a full bred Ghanaian though he holds dual citizenship.
"I'm a dual citizen. I have a British passport but I never gave up my Ghanaian passport. So the need for somehow partnering with the Ghanaian architect has never been an issue because I'm actually a Ghanaian," he said.