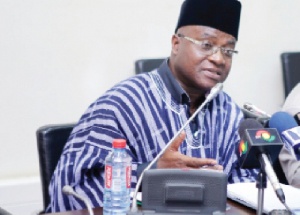 The Minority in Parliament have absolved themselves of any blame in the approval of John Oti Bless as a deputy Minister of state.
Parliament on Wednesday consented to the nomination of Oti Bless, Member of Parliament for Nkwanta North as minister, after it was put on ice for many months following his attack on the judiciary on Montie FM.

He later expressed remorse issuing an unqualified apology to the judiciary. That notwithstanding, many believed that his deputy ministerial nomination should not have been approved, blaming the minority for shirking their responsibility.

But speaking Thursday on the Morning Starr, the Minority leader, Osei Kyei Mensah Bonsu disputed the allegations that the minority slept on the job, arguing that the minority would always have their say while the majority would have their way.

"Let no one blame all of us for approving Oti Bless [and] that Parliament is about majority decisions."
Meanwhile, Dr. Kobby Mensah, lecturer and political strategist said Oti Bless' approval could been a political strategy.

"I think the approval is politically strategic for the president. Maybe Oti Bless brings some votes to the president hence the approval," he told host Nii Arday Clegg.

Oti Bless on Wednesday lauded parliament's approval of his nomination describe it as great news.