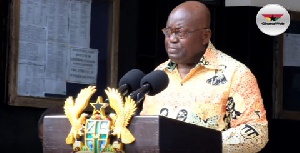 President Nana Addo Dankwa Akufo-Addo has instructed his appointees and close associates never to use the accolade – 'His Excellency' – in addressing him.
Vice President Dr. Mahamudu Bawumia who made the disclosure at a public event Tuesday, believes his boss wants to live a modest life.

"It's an honour to represent His Excellency… He [Nana Addo] said we should not call him His Excellency anymore," Dr. Bawumia told the audience at the African Diaspora Homecoming Conference on Tuesday.

Nana Akufo-Addo is said to prefer being called 'Mr President' to 'His Excellency' which looks more patronizing.

Nana Akufo-Addo has served notice that he is not into government to enrich his pocket.
"If your goal in coming into government is to enrich yourself, then don't come. Go to the private sector. Public service is going to be exactly that; public service!" the president had cautioned.

Nana Addo, who is Ghana's fifth president under the Fourth Republic, has promised to protect the public purse.

"We must decentralize more, trust the collective, restore integrity in public life. State coffers are not spoils for the party that wins an election. I shall protect the public purse and insist on value for money," he remarked during his inaugural speech.