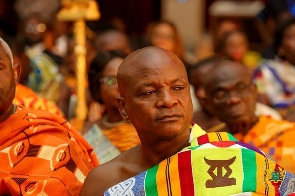 The Paramount Chief (Agbogbomefia) of the Asogli Traditional Area, Togbe Afede XIV, has advised young men and women to pursue hard work instead of the penchant for quick money and other material things.
He also entreated them to work at becoming honest people since those virtues are greater than the material pleasures they chase after, a report by graphic.com.gh said.

Speaking with the graduates at the 7th congregation of the University of Health and Allied Sciences (UHAS) at Sokode-Lokoe, near Ho, the outspoken Ewe traditional leader cum businessman added that the youth can take advantage of the present difficult economic times to establish themselves.

"Therefore, you must focus on things that matter to the people and not the desire to attain money, expensive cars and massive houses with money cash from dubious sources," he said.

Togbe Afede XIV also said that it is important for young people to know that earning a university degree is good, but without being hardworking and innovative, it would not be enough to sustain their lives.

He also urged them to eschew greed, stressing that this has become one of the things that has been inhibiting the development of Ghana as a country.
He advised them to make sacrifices and do away with laziness if they want to be able to completely eradicate the mindset of poverty.

"Poverty is created in bed, and you cannot sleep as if you are competing with the dead and expect success to come your way," he added.

A total of 826 people from the Schools of Allied Sciences, Basic and Biomedical Sciences, Medicine, Nursing and Midwifery, Pharmacy and Fred N. Binka School of Public Health, received certificates on completing their various degree courses.

AE/BOG