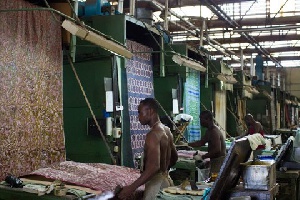 The General Secretary of the Textile, Garment and Leather Employees' Union (TEGLU), Abraham Koomson, says government must support fully the anti-piracy taskforce on Textiles to enable them perform their task without any impediment.
Speaking to Kasapa 102.5 FM, Mr Koomson said: "All things being equal, if the task force is constituted, government must not frustrate their operations but support them and allow them to exercise their mandate to help the local industry"

The Ministry of Trade and Industry is set to constitute a taskforce on textiles to address the influx of pirated textiles into the country.

The inauguration of the taskforce is scheduled to take place on October, 11, 2017, the Ministry said in a statement.
The move comes on the heels of a picketing action embarked by workers of the local textiles industry in Accra on Monday, 2 October.

The protest was part of the tireless crusade by stakeholders to stop smuggling of fake textiles into the Ghanaian market.

In 2010, the Ministry formed the anti-piracy taskforce drawn from the security agencies, the Ghana Revenue Authority and the Ghana Union of Traders Association, to combat the activities of pirates but that move was short-lived, hence the mounting pressure on government to reconstitute the taskforce.