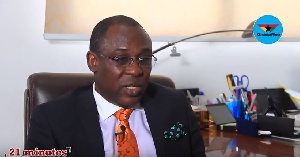 Vice-President of IMANI Africa and private legal practitioner, Kofi Bentil, has said although the renegotiated Ameri deal done by the Akufo-Addo government was questionable, it did not make the original deal signed by the John Mahama administration any sacrosanct.
According to him, the original deal was bloated by $150 million by the Mahama administration, and, so, said the opposition had no moral right to gloat.

The NPP administration recently began taking steps to amend portions of the controversial $510 million deal signed by the Mahama administration.

The current government believes that there was no value-for-money in the deal signed by the NDC administration, hence the renegotiations.

However, the renegotiated deal attracted a lot of flak from some Ghanaians, with critics saying it was not the best for Ghana.

The Minority in Parliament called on the government to immediately suspend the Novation Agreement which is currently before Parliament.
Addressing a press conference, a former Deputy Power Minister, John Jinapor, reiterated the concerns of the government's critics, and said it is not justified for the government to push for a deal that would cost over a billion dollars, when, with the payment of $225 million in two-and-a-half years, the Ameri plant would become the property of the state.

The Yapei Kusawgu MP indicated that the president was complicit in the deal, especially after he gave executive approval to the Novation Agreement.

"It, therefore, sums up that the president is very comfortable with this deal. The President is certainly neck-deep and arms-deep into this whole deal and you cannot but hold the president accountable."

He, thus, maintained that the president was ultimately responsible for "this stinking, scandalous and disastrous deal that is about to wreck the whole nation."

But in a tweet, Mr Bentil, who had earlier described the renegotiated deal as one that "stinks to the high heavens", said: "NDC, Please don't think the present problem with Ameri makes your deal any better! you bloated it by 150 million dollars!!!"
errmmm NDC,
Please dont think the present problem with Ameri makes your deal any better! you bloated it by 150 million dollars!!!

— kofi bentil (@kbentil) August 7, 2018