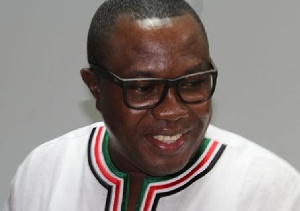 Director of Elections for the main opposition National Democratic Congress (NDC), Samuel Ofosu-Ampofo, has called on the Electoral Commission to conduct a proper evaluation before introducing technology in the electoral process.
In 2016, the EC planned on setting up an electronic result transmission system in the collation of the presidential election results, but the political parties rejected it after some allegations of hacking surfaced.

This incident, according to Mr Ofosu-Ampofo, should serve as a caution against any future incorporation of technology in elections until stakeholders can be assured of its propriety and security.

Speaking at the Accra Dialogue series, Mr Ofosu-Ampofo said: "In the last election, we were sitting on knife edge when the electoral commission chair came out and said their system had been hacked".
"Prior to the election, the issue of electronic transmission of results and others had been debated widely and people had expressed concerns that we do not have a strong electronic backbone and that we cannot move into electronic transmission, so, it was no wonder when the EC boss came and said that the system has been hacked.

"Under normal circumstances, that could have been a recipe for confusion and chaos in this country because we, the political parties, could have come out and rejected the results because once the chairperson of the EC herself has said the system had been hacked, then the integrity of the electoral process has been compromised.

"So, we are saying that: Let us be very careful, let us hasten slowly at the adaptation [of technology]. At the end of the day, in 2016, manual collation eventual [worked] for us".