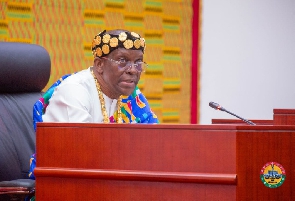 The Speaker of Parliament, Alban Bagbin on Thursday, 16 February 2023, cautioned Members of Parliament against the use of language that is not parliamentary.
The Speaker said this during the Finance Minister Ken Ofori-Atta's appearance in Parliament to update the house on government's Domestic Debt Exchange Programme (DDEP).

Mr Bagbin urged the members of the house to: "Use Parliamentary language, not the language in a chop bar or marketplace but in Parliament."

Meanwhile, the Finance Minister has said government is committed to the welfare of the country's pensioners.

He said: "Government is committed to the wellbeing of our senior citizens and pensioners.

"The government will honour their coupon payments and maturing principles."

He reiterated that he had convened to the pensioner bond holders that persons who did not participate in the bond offerings have therefore been exempted."
"I have met with them on three occasions where I explained the terms of the new bonds. I subsequently wrote to their convener to let him know that all pensioners who did not participate in the bond offerings are exempt," the Finance Minister stated.

He called on members of the house to support government to get the board approval from the International Monetary Fund (IMF).

He stressed that the IMF deal will enable the country recover quickly from its economic challenges.

"I will urge Members of Parliament to support the government to secure the board approval for macro stability," the Finance Minister added.

You can also watch this episode of People & Places here: