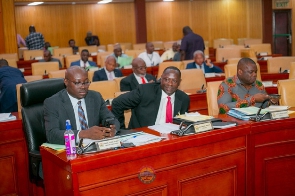 A group against the sale of the Saglemi Housing Project, 'Team Saglemi Housing Not For Sale', has said the Minority in Parliament, except for a few, have proven they are not in the House to represent the interest of Ghanaians but only in parliament to satisfy their "selfish egos" for "self aggrandisement".
The group's comment follows the approval of the government's ministerial appointees by some members of the Minority in Parliament.

A statement signed by its lead convener Nana Otu Darko, said: "Greed and advanced bribery can produce this mess."

According to the group, what happened in "parliament has further deepened the cracks that seek to suggest that the NDC is not hungry and ready for power".

"The NPP did all they could politically to get Hon Gyekye Quayson out of their way in aid of parliamentary manipulation but the Minority in Parliament has continuously shown otherwise."

The group further noted that the action by a section of the minority "is a clear and an undeniable conspiracy, if not a stab in the back, against the Ato Forson-led leadership to equally prove their grave weakness. An action that spells doom for the future of the Umbrella group."

The group, therefore, admonished "every NDC parliamentarian to desist from unleashing unnecessary vehemence against the perceived bloated size of the Akufo-Addo government either in the media circles or in parliament.
"They should not take us Ghanaians for fools and must equally desist from pointing to Hon Brian Acheampong as the brain behind the alleged unleashed lawlessness during the Ayawaso brouhaha, as their massive endorsement for Hon Brian Acheampong defeats all their hollow arguments."

The group urged former President and aspiring flagbearer of the NDC John Dramani Mahama to "be extra careful and vigilant ahead of the 2024 elections, especially with people who will represent him as polling agents, especially at the branches, regional collation centres and the strong room as we can firmly agree that the recent decision of some NDC MPs has confirmed that he is in the same boat with his hardened and incorrigible enemies awaiting to welcome the next sea tide to ravage them."

It continued that: "JDM can hurriedly ignore this granted he doesn't want power again come 2024, especially at a time when the incumbent NPP is bent on breaking the '8' with Nigeria APC as reference point."

The group further suggested the setting up of an ad hoc committee by the opposition NDC to look into the matter.

"We officially suggest to the Chairman Asiedu Nketiah led leadership and the Council of Elders as well as NDC's Functional Executive Committee to as a matter of urgency set an ad hoc committee of enquiry to investigate into ascertaining the veracity of possible MP's that may have caused such public mess," it said.

The team further suggested such individuals within the Minority, if found must "be unseated in the upcoming elections on the 13 of May."