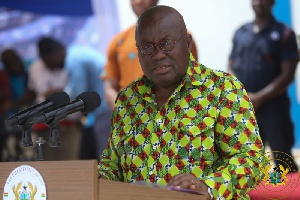 Dr. Daniel Ato Aidoo, a Policy Analyst, Kra Consult, has opined that the government of Ghana should not underestimate distraction as it could suppress its good works.
In a Facebook post titled "Ogyakrom Diary: Good news, bad news, and Intelligence", Dr. Aidoo referenced how "The Ghanaian government has announced a fifty percent reduction in school fees for third-year Senior High School (SHS) students for the third term which is their last period to stay in school", advising that "The government should lift this good news and make it "holy".

According to Dr. Aidoo "This is the "biggest" news, unprecedented, and should attract many op-eds". He quipped "Where is the Information Ministry?".

He wrote "Flagstaff House, Jubilee House, Cocoa House, Gold House, among others, should give way to the larger problems facing our people and the solutions thereof. Ideological and Commodity debates should also give way to how we can fix high import duties, deficit in housing, bad roads, and more importantly healthcare and unemployment".
Dr. Aidoo said "We should not underestimate distraction, it is inimical to development.We should not care much about the arrest and release of an attention-seeker, Koku, and suggested that "His father, Henry, a celebrated army officer who retired with honors and respect would have been a good mediator as he has a better understanding of the repercussions of a coup d'etat".

"Managers of Ghana's intelligence service should have engaged Koku in a fruitful discussion through the father.Why then did we waste our time on Koku who is still learning political communication?, Dr. Aidoo questioned.

"Let us take advantage of the many conflict resolution strategies available to us. They can give us better outcomes and less noise", he advised.