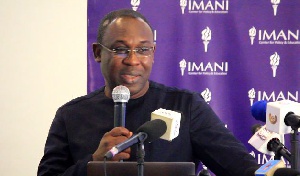 Vice President of IMANI Ghana, Kofi Bentil has asked Senior Minister, Osafo-Maafo to help get to the bottom of what led to the violence that occurred during the Ayawaso West Wuogon by-election.
The Senior Minister over the week, condemned former President John Mahama for painting Ghana 'black' before members of the diplomatic corps.

The former President among several comments bemoaned government's somewhat lack of commitment to getting to the bottom of the Ayawaso chaos.

According to him, because President Akufo-Addo had 'endorsed violence' in the past through his 'all be die' comment, he is finding it difficult to solve the Ayawaso debacle which led to the injuring of some members of the NDC.

However, the Senior Minister disagrees; describing Mahama as 'unpatriotic'.

But reacting to this, Kofi Bentil says the diplomats know more than anyone can imagine so that should be the least of Osafo-Maafo's worries.
Speaking in a panel discussion on Joy FM's 'Newsfile' programme, Kofi Bentil said: "he should be minded to be getting to the bottom of this; if for nothing at all for the fact that he is a Senior Minister…it comes as if he is more interested in what people tell the diplomats about us. The diplomats tend to know more about what is happening in this country…it is not news to them. What he should be worried about is what is the truth of the matter."



Mr Bentil also urged the former President to submit the videos he has to the appropriate authorities to help in investigations.

"That evidence that former President Mahama has is material…I would expect him to probably submit it," he urged.