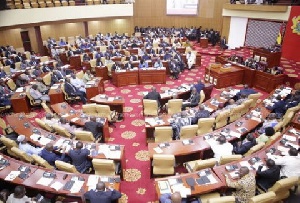 Parliament has pledged to fully cooperate with law enforcement agencies to ensure that allegations of double salary receipts made against some members of the house who were also Ministers under the immediate-past John Mahama-led government, is brought to an end.
The suspected former appointees, some of whom have appeared before the Criminal Investigations Department (CID) of the Ghana Police Service, have denied taking double salaries.

Twenty-five lawmakers were initially invited by the police CID, but 18 of them were later asked to disregard that invitation.

Parliament in a statement signed by Kate Addo, Acting Director of Public Affairs, said it has observed that the offence of criminality in the said matter is yet to be proven, and "will like to, therefore, implore the police, members of parliament and the general public to remain calm and circumspect in their comments until the full facts of the matter are determined."
"Meanwhile, parliament, in an effort to enhance transparency and accountability, pledges to cooperate fully with the law enforcement agencies to bring the matter to conclusion," the statement added.