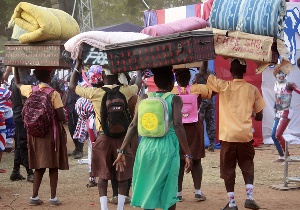 The first batch of candidates to test the controversial double-track system is expected to attend classes for a total of 42 days barring any last minute changes in the GES calendar, kasapafmonline.com understands.
Should the weekends be added, it means candidates who will be lucky to be accommodated in a boarding school will spend a total of 57 days in school.

This first batch of candidates placed on the GREEN TRACK, according a statement signed by the Head, Public Relations Unit, Ghana Education Service, Cassandra Twum Ampofo, and released in Accra, Tuesday, September 4, 2018 are expected to "resume" on September 11, 2018 whereas the GOLD TRACK (Second batch) will resume on November 8, 2018.

Assuming the first batch of candidates (GREEN TRACK) resumes on the said date as directed by the GES and vacates on November 6, 2018, it means the candidates will attend classes for a total period of 41 days.

Those placed on the GOLD TRACK are also expected to spend a period of 40 days in school.
That means under the Double-track school calendar, the candidates will spend 162 days in the classroom with 1,134 teaching hours instead of the 180 days with 1,080 teaching hours under a Single-track school calendar.



Those who will be in boarding will spend a period of 225 days compared to 265 days under the Single-track school calendar.