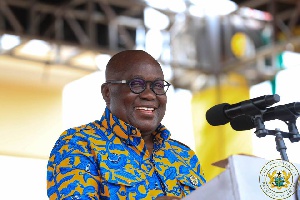 Sat, 20 Oct 2018 Source: Kwabena Danso-dapaah
The President, Nana Akufo - Addo has justified the implementation of the government's flagship policy; Free Senior High (SHS) despite warranted criticisms from leading members of the opposition National Democratic Congress (NDC) and some concern Ghanaians home and abroad
"We don't want dropouts!", the President declared at the graduation ceremony of some 138 officers at the Ghana Military Academy at Teshie in Accra covered by this reporter, Kwabena Danso-Dapaah

According to the President, "very soon, we [government] will pass legislation that stipulates that every child in Ghana should go to school up to Senior High School level, at least".

In April this year, President Nana Addo Dankwa Akufo-Addo says he is fulfilling promises he and the New Patriotic Party (NPP) made to Ghanaians in the run-up to the December 2016 elections.

"Those who said we could not do it have been put to shame", Nana Akufo -Addo teased.
"The work that we promised to do, the promises I made during the campaign period, I believe that all Ghanaians can attest to the fact that they were not idle promises, but rather promises that I honestly believed that I could fulfill, once I won power," the President said.




Source: Kwabena Danso-dapaah