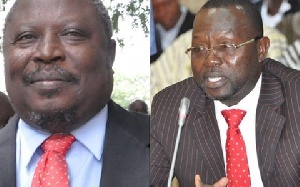 Thu, 15 Feb 2018 Source: Faisal Ibrahim Cisse
"It is my honest opinion that this nation's interest will be best served if Martin Amidu is allowed to work without this nuisance law suit" Faisal Ibrahim Cisse, a member of the NPP Communications Team has suggested.
Dr. Dominic Ayine has caused his lawyers to file a suit against the appointment of Martin Amidu as Special Prosecutor. The Parliamentary Appointment Committee vetted Martin Amidu on Tuesday.

Following the almost 9-hour vetting of Mr. Amidu, Mr. Ibrahim Cisse who is also aspiring to be the Klottey Korle Constituency Assistant Secretary suggested to Dr. Ayine to withdraw the legal suit against the appointment of Martin Amidu as the Special Prosecutor. According to him, the nominee confirmed to many Ghanaians that he is the best man for the job.

"Watching him at the vetting, it is difficult to fail to see that this man is a huge asset for this country. It will be a great disservice if this country is denied the services of Martin Amidu. The President made the best appointment decision" he said.



According to him "Martin Amidu has shown that he has the right skill, experience and moral clout to help this country save billions from corruption".
On fears expressed by the NDC on Martin Amidu' appointment, Patriot Faisal as he is popularly known said "clearly from the vetting, the NDC has no justification to harbour any fear of Martin Amidu. He has shown that he can be neutral and impartial in his work."



"The view of majority of Ghanaians is that history will not be kind to Dr. Ayine or the NDC if they use this nuisance law suit to deny this nation the honest services of Martin Amidu" he concluded.


Source: Faisal Ibrahim Cisse