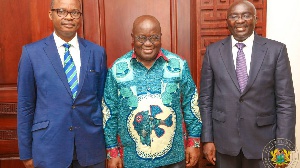 Vice President Dr Mahamudu Bawumia who is chairman of the Economic management team met his team on Tuesday and have together kicked against the proposed amendment to the AMERI Deal, MyNewsGH.com can confirm.
The Economic Management Team met to discuss the revised deal for the first time and conclusively convinced it was not in the interest of Ghana. Vice President Bawumia it is reported, said he is 'shocked', insisting he will ensure, in consultation with boss the President that the right thing is done.

Dr Bawumia's concerns about the new deal is in line with the Akufo-Addo government's earlier position on AMERI.

Readers of MyNewsGh.com will recall our recent reference to then Vice Presidential candidate of the New Patriotic Party Dr. Mahamudu Bawumia who waded into the controversial AMERI power deal accusing the Mahama government of swindling Ghanaians in 2015.

Addressing old students of Prempeh College in Kumasi in the Ashanti region in December 2015, Dr. Bawumia said the Mahama government was not being transparent about AMERI and there i corruption all over the deal.

According to him, the Mahama-led administration is ripping off the state with the deal.
"The issue of the AMERI power deal is the latest episode of issues bothering on corruption and failure to ensure value for money for the people of Ghana.

"This contract does not make sense," Dr. Bawumia had said.

The Akufo-Addo government has sought to review the agreement, but in doing so, the contract ended up costing us more money, and has led Energy Think Tanks ACEP and IES up in arms against the government.

The Senior Staff of VRA have also kicked against the deal while more experts have said it should be withdrawn. IT now appears the EMT led by Dr Bawumia agree with them.

President Akufo-Addo it appears was misled to give his blessings to the deal and Dr Bawumia is expected to meet his boss to enforce why the new deal should go.