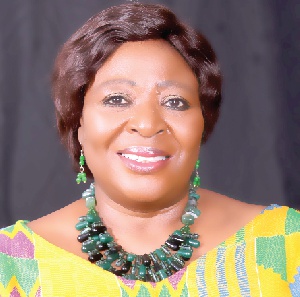 Dr Bernice Adiku Heloo, the Member of Parliament for Hohoe and a Member of the Appointments Committee, has saluted Mrs Jane Cynthia Naa Koshie Lamptey for rising to the position of Ghana's first Deputy Special Prosecutor.
The nominee went through vetting at the Parliament House on Wednesday, May 16, 2018 and following a satisfactory report by the Appointments Committee, the House approved Mrs Lamptey by consensus.

President Nana Addo Dankwa Akufo-Addo, in April, nominated Mrs Lamptey, a lawyer with 30 years standing at the Ghana Bar, who had served the nation in various capacities including Director of Public Prosecutions, as Deputy Special Prosecutor.

Mrs Lamptey will be assisting the Special Prosecutor, Mr Martin Amidu, to carry out the independent prosecution of politicians or people in public office deemed to be corrupt.

The Plenary of the House voted a big aye to confirm Mrs Lamptey and to accept the

Thereafter, Dr Heloo, in an interview, paid glowing tribute to the Deputy Special Prosecutor nominee and women who defied all odds to rise to positions of high recognition in society.

During the vetting, Dr Heloo, a former Deputy Minister of Environment, Science, Technology and Innovation, asked the Special Prosecutor nominee of the core values she would bring to her new role and how she would foster a relationship among related institutions for effective functioning among others things.
Mrs Lamptey expressed the belief that her almost 29 years of experience as a Public Prosecutor would greatly impact on her work coupled with her principled nature.

She said the Office of the Special Prosecutor must be provided with information to work effectively and called for collaboration with related institutions and the general public.