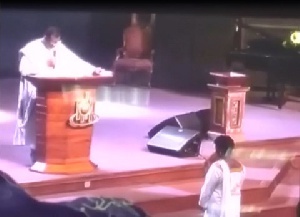 The General Overseer of the International Central Gospel Church (ICGC) Dr. Mensa Otabil during a Thanksgiving service on Sunday, June 25 bestowed blessings on the new Chief Justice Sophia Akuffo.
The prayers were said shortly after a sermon titled "How to handle the top" by Enoch Sitima, a guest pastor from Botswana. The message came in handy as it served as words of wisdom for the Chief Justice and other judges who gathered to join in the celebration with her.

Quoting from the Bible, Dr. Mensa Otabil used Psalm 72 as a reference point to pray for the new Chief Justice of Ghana.

In his prayers, he said, "This is Solomon's prayer for God to give him the ability to bring the right judgment. I know you are not a king but it applies to the office that God has called you to and today we come as a congregation to surround you with our prayer and to pray that God will give you wisdom, that he will give you this judgement".

Dr. Mensa Otabil also advised her to be wise, strong and firm in her decisions concerning rules and judgements although some people will dislike and spread rumours about her if her judgement doesn't favour them.

Justice Sophia Akuffo was sworn in on June 19, 2017, by President Akufo-Addo.
She is the 13th Chief Justice in Position and the second female after the immediate past Chief Justice Georgina Wood.

Sophia Akuffo had her Masters in Law (LLM) from the Harvard University in the United States. She has been a member of the Governing Committee of the Commonwealth Judicial Education Institute and the Chairperson of the Alternative Dispute Resolution Task Force.

In January 2006, she was elected one of the first judges of the African Court on Human and Peoples' Rights initially elected for two years, she was subsequently re-elected until 2014 and is at present serving as Vice-President of the Court.

She has written The Application of Information & Communication Technology in the Judicial Process – the Ghanaian Experience, a presentation to the African Judicial Network Ghana (2002).