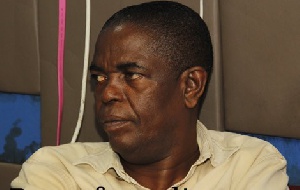 Managing Editor of the Insight newspaper, Kwesi Pratt Jnr., has called on all parties interested in finding out the truth behind the sale of the drill ship Discoverer 511 to allow the Judgment debt Commission room to do its work.
Speaking on Peace FM's political analysis programme, Kwesi Pratt called on critics political figures in the country to exercise patience as the Commission investigates the circumstances that led to the sale of the drill ship.

According to him, they should desist from accusing characters invited by the Sole Commissioner investigating all judgment debts that has cost the nation whopping sums of money.

Kwesi Pratt admonished them to wait for the Commission's findings before passing judgment on any individual involved in the drill ship saga.
He urged both opposition parties and proponents discussing the issues to draw the line between right and wrong and therefore know that once somebody is incriminated in the deal, that settles the drill ship puzzle.

"If we don't want equalization…the principles should hold through. If it will be helpful to all of us, let's exercise patience to wait and allow the Commission to do its work and release its findings. Because as we talk, the Commission has not found anything; it's still interrogating. So, nobody is a thief. Nobody is a thief as far as the sale of the drill ship is concerned.

"Personally, it's not right for someone to assert that K.T Hammond has disappointed us and stolen our money; I won't accept it. I won't also accept any claims that Kan Dapaah has committed a crime…," he stated.