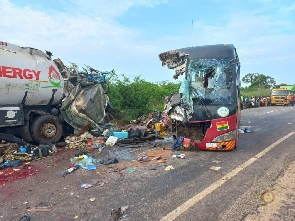 The National Road Safety Authority(NRSA) says preliminary investigations points to driver fatigue as cause of the accident that occurred at Gomoa Okyereko in the Central Region Tuesday dawn that claimed 16 lives and left over 25 persons severely injured.
The accident involved a fully packed Yutong bus heading towards Accra and a fuel tanker believed to be owned by Goodness Energy.

According to information gathered by Starr News, the driver of the Yutong bus was sleeping along the journey and upon reaching Gomoa Okyereko he veered from his lane into the opposite lane resulting in the collision with the Fuel tanker.

The body of all Sixteen deceased persons have been deposited at the Winneba Specialist and Trauma Hospital Mortuary while the injured are receiving treatment at the same facility.
Commenting on the crash in an interview with Starr News, the Central Regional Head of the National Road Safety Authority, Linda Afottey Anang urged government to dualize the major roads in the country to address road carnage.

"One thing we are advocating for is the dualization of the road. We tend to have lots of head-on -collisions, so that will be an engineering issue there(Gomoa Okyereko). For head-on-collisions we need to dualize the roads so that we'll be able to minimize collisions at where we're having the head-on-collisions."

The National Road Safety Authority and the Ghana Police Service have identified Gomoa Okyereko as one of the most accident prone areas on the Accra to Cape Coast Highway and have advised drivers to be extra careful on that stretch of the road.