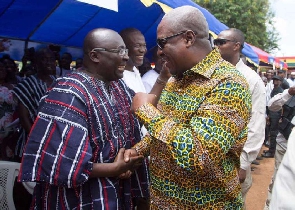 The National Communication Bureau of the National Democratic Congress (NDC) says the Vice President's #dropthehypocrisy list is full of lies and fabricated to discredit the party.
Dr Muhammadu Bawumia's # dropthehypocrisy list compares and contrasts works done under his government and the erstwhile National Democratic Congress (NDC) government.

In the part one of NDC's version #DropTheLiesBawuliar, the NDC replaced the Teacher Training Allowance Sustainable Students Loans under the SLTF as it relates to other tertiary institutions.

However, the New Patriotic Party restored the Teacher Training Allowance thereby imposing untold hardship on the Trainees.

Among the #DropTheLiesBawuliar list, the NDC mentioned that while in government, the Utilities and Feeding fees for the Teacher Trainees were catered for but under the NPP the program was cancelled.
The #dropthehypocrisy list by Vice President Bawumia was in counter of the 'Kum Yen Preko' demo which saw a high participation of members of the NDC.

The Vice President stated that the compilation was to expose NDc's failures, which he termed as his party's achievements.