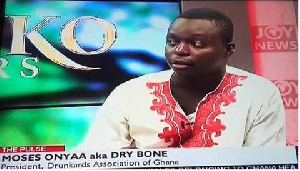 The drunkards association of Ghana is embarking on a conference to address issues related to safe drinking and job creation among alcohol-abusers in Ghana.
A press release issued by the president of the association, Moses Drybone, indicates that the Congress aims to educate Ghanaians on safe drinking and also entreat local manufacturing companies to put safety first in the production and consumption of alcohol.

Alcohol abuse has been documented as the major cause of deaths in Ghana today. Medical officers in Ghana say that most cases of Hypertension, Kidney damage, Diabetes and Stroke are caused by the abuse of alcohol in Ghana.
Ghanaians are therefore being advised to consider putting their health first whenever it comes to the consumption of alcohol.

Meanwhile, Ghana has been added to a list of countries with high cases of alcohol consumption. In fact, a report conducted by the International Center for Alcohol Policies (ICAP) also indicates that most alcohol consumed in Ghana are illicit.