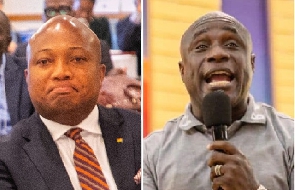 Victor Kusi Boateng, a National Cathedral top official recently lost a case he brough against North Tongu Member of Parliament (MP) for publishing among others personal details about him.
After hearing both sides, the court ruled that the applicant in the case did not have locus standi and that there were actually two different people purporting to be the same person.

Kusi Boateng, said in court papers that he was also known by the alias Kwabena Adu Gyamfi, but the court held that his claim was false because all details of the two persons were entirely different.

In his ruling, the trail judge expressed concern about the failure of the clergyman's lawyers to draw his attention to the obvious infraction.

Points 89 and 90 of the ruling emphasized that fac. It read as follows:

"89. The evidence before this court discloses a pattern of duplicity and lack of transparency on the part of the applicant which borders on criminality and the failure of applicant's counsel to appreciate the import of his client's conduct and to advise him appropriately is unfortunate, to say the least.
"90. As was stated earlier, this court has had to painstakingly comb through the totality of the evidence before it in order to decipher the identity of the applicant who commenced this action because of the contention over his true identity.

"Having established that the applicant, who describes himself as Kwabena Adu Gyamfi alias Victor Kusi Boateng operates in two distinct and separate identities concurrently, the question which of the applicant's two identities is the originator of this action is relevant as that will enable the court to make specific orders at the end of the case.

"In other words, the court must know whether the applicant before it is Kwabena Adu Gyamfi who was born on 30th December 1969 and whose mother's maiden name is Yaa Gyamfua or Victor Kusi Boateng who was born on 7th September 1971 and whose mother's maiden name is Agnes Attah."

Ablakwa was awarded cost to the tune of 10,000 cedis as part of the judgement.