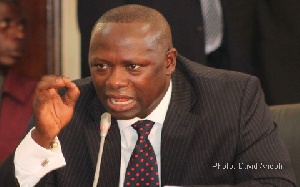 Former Energy Minister, Emmanuel Armah Kofi Buah has slammed government's attempt downplay the recent power crisis with a series of explanations.
Speaking to reporters Monday on the back of government's apology to Ghanaians for the recent erratic power cuts in several parts of the country, Kofi Buah urged the government to focus and once and for all deal with the challenges.

According to him, he is as confused as any Ghanaian on the current power instability and that government needs to comprehensively engage the public on the extent of the challenge as well outline steps being taken to address it.

"The people of Ghana, I have learnt are very understanding and will be very clear in their minds when the government levels with them. But I think that the government do not level with the people of Ghana and comprehensively tell the people of Ghana what's going on, the challenges they are facing.

"But try to basically do ad-hoc announcements and think that when it comes to the energy sector you can simply buy your way on a daily basis, it won't work because, in the final analysis, the people of Ghana do not want to hear anything else. I have learnt that. Just turn the lights on," he said.
Meanwhile, at a news conference Monday morning, the Deputy Energy Minister, William Owuraku Aidoo, said enough measures have been put in place to deal with the situation.

"We have enough fuel, contrary that government doesn't have money and we are mismanaging the energy sector, that is absolute balderdash…in a nutshell all that I am trying to say is that we have taken the necessary steps to reduce to the barest minimum the disruption of power to the country.

"All I will say now on behalf of the Hon. Minister, President, of course, is to apologise to the people of Ghana and to assure you that we are doing all we can to bring the supply of electricity to normalcy."