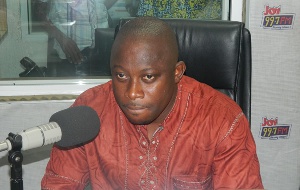 Tue, 28 Feb 2017 Source: Enerst Lartey
The Member of Parliament for Bongo Constituency and the former Communication Consultant for the Energy Ministry, Honourable Edward Bawa has attributed the ongoing 'dumsor' to lack of planning by the government.
According to him, the NDC administration left behind sufficient installed generational capacity and fuel to power the TICO, TACA, Akosombo, Asogli and Bui power plants to avoid unnecessary load shedding.

"It's the maintenance being run on the plants that has plunge some parts of the nation in darkness. In any the government knew it was going to run maintenance, it should have put in interim measures to avoid dumsor but they were careless. They didn't plan for alternative fuel sources," He explained.

Discussing the ongoing power crisis on 'State of Affairs' on GHONE TV, the Honourable member indicated that the ongoing power crisis is not as a result of generational problem but fuel. He explained that one of the strategies the NDC adopted to stabilize the power crisis was due to its ability to have fuel in stock for future use or to power the generational plants in critical time.

On his part, the new administration must be strategic and model the best practices by the NDC in the energy sector to have stock of fuel in place for use in most challenging times.
Honourable Bawa advised government that it should make provision for fuel security and improve the financial health of the energy sector by paying all its debts to keep the sector running.

"Government must implement the energy sector levies, ensure that all state institutions pay their electricity bills to help ameliorate the accumulated debt stock in the energy sector. But l doubt if government will implement the energy sector levy because l heard the government want to scrap it."

He said, he cannot quantify the amount of money spent on ending dumsor due to private initiatives by private business and the Inter party partnerships.
Source: Enerst Lartey