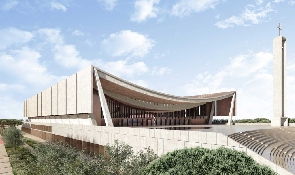 Two members of the Board of Trustees of the controversial National Cathedral project, Archbishop Nicholas Duncan-Williams and Reverend Eastwood Anaba, have called for the suspension of the project.
According to the two clergymen, an independent audit of the expenditure on the National Cathedral Project should be done to ensure transparency and accountability to the Ghanaian people.

Their call comes amid some controversies that have erupted in recent times with regard to the National Cathedral project.

The clergymen added that until the audit of the cathedral account is done, there should be a stop to the construction.

In a memo sent to the Board of Trustees on Monday, January 23, and sighted by myjoyonline.com, it said "that in the spirit and cause of transparency and accountability to the Ghanaian people, the current Board of Trustees of the National Cathedral shall appoint an independent, nationally recognised accounting firm to audit all public funds contributed to and spent by the National Cathedral.

"Auditors will also audit the overall cost of the project. This appointment of an auditor shall take place before the deferment of activities of the Board of Trustees," excerpts from the memo said.

"That current activity advancing the construction of Ghana's National Cathedral shall be deferred until the atmospherics in Ghana are improved and the audit of the Cathedral account is done," excerpts of the memo added.

The National Cathedral has been one of the topical issues in the last two weeks following some shocking revelations made by the North Tongu MP.
On Monday, January 16, the lawmaker accused the Secretary of the National Cathedral Board of Trustees, Rev. Victor Kusi-Boateng, of a conflict of interest and possession of multiple identities.

According to him, Rev. Victor Kusi-Boateng appears to be using questionable means to divert funds from the National Cathedral project.

He has since petitioned the Commission on Human Rights and Administrative Justice (CHRAJ) to investigate the matter.

Aside from the lawmaker's revelation, details as to why a member of the board of trustees, Dag Heward-Mills, resigned from the board emerged.

In his resignation letter, which he addressed to the Chairman of the Board of Trustees of the National Cathedral, President Akufo-Addo, and others, he raised concerns as to the cost, design, fundraising, and locations, among others, but did not receive a response after writing several letters.

"I feel that the treatment of the issues I have raised in my several letters has been unfortunate. My letters have been ignored in the past; not attended to for years, and at best addressed flippantly."

One of the top priorities of the Nana Addo Dankwa Akufo-Addo government is the building of a 5,000-seater cathedral in fulfillment of a pledge made by the president to God before winning the 2016 elections.
According to the President, the construction of the National Cathedral is pivotal to the development of Ghana.

He explained that the country's comparative performance against neighbouring countries is mainly by the grace of God.

President Nana Addo Dankwa Akufo-Addo on March 16 appointed a 13-Member Board of Trustees to spearhead Ghana's National Cathedral.

At their inauguration at the Jubilee House, the President said the 13-member Board of Trustees will be in charge of the National Cathedral when it is completed. The members are:

1. Apostle Prof. Opoku Onyinah, former Chairman of the Church of Pentecost – Chairperson

2. Archbishop Charles Gabriel Palmer-Buckle, Metropolitan Catholic Archbishop, Cape Coast – Vice Chairman

3. Most Rev. Bishop Justice Ofei Akrofi, Anglican Archbishop Emeritus – Member
4. Rt. Rev. Prof. Emmanuel Martey, former Moderator of the Presbyterian Church – Member

5. Most Rev T. K. Awotwi Pratt, Presiding Bishop of the Methodist Church – Member

6. Rev Prof Cephas Omenyo, Moderator of the Presbyterian Church – Member

7. Pastor Mensa Otabil, General Overseer of International Central Gospel Church – Member

8. Archbishop Nicholas Duncan-Williams, Presiding Archbishop and General Overseer of Action Chapel International – Member

9. Rev Dr Joyce Aryee, Executive Director, Salt and Light Ministries – Member

10. Bishop Dag Heward-Mills, Presiding Bishop, Lighthouse Group of Churches – Member
11. Rev Eastwood Anaba, Founder and President of Eastwood Anaba Ministries – Member

12. Rev Victor Kusi-Boateng, Founder of Power Chapel Worldwide – Member/Secretary

13. Rev Dr Frimpong Manso, General Superintendent, Assemblies of God – Member

At the National Cathedral Secretariat, there is an appointed Executive Director known as Dr. Paul Opoku-Mensah with two (2) representatives of the United States (UN).

In August 2022 Bishop Dag Heward-Mills resigned as a member of the trustee.

NYA/SEA