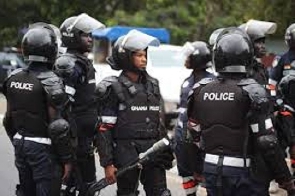 There is another heightened chieftaincy tension at Akyem Kade in the Eastern Region over planned 40-day celebration of the demise of the Queenmother of the town Ohemaa Akua Fosua .
It follows attempt to impose a rival chief enstooled recently at Kyebi and sworn an oath to Okyenhene Osagyefuo Amoatia Ofori Panin to be in charge of the 40 -day observation in his capacity as Kadehene.

A similar chieftaincy dispute at Adoagyiri recently led to the death of two persons.

The incumbent Chief of Kade Osabarima Agyare Tenadu II,alleged to have been destooled , together with some sub chiefs as well as angry residents have rejected the inclusion of the rival chief Osabarima Asare Twe known in private life as Twum Deberah to sit in state during the traditional rite.

Addressing the media in Akyem Kade on Sunday September 10,2023 ,Lawyer Nkrabea Effah Datteh Esq counsel for Osabarima Agyare Tenadu II enstooled as Chief for over 15 years untill recent enstoolment of a rival chief argued that he is before the supreme court on appeal against the national house of chiefs that entered judgement against him, therefore until Supreme court makes the final determination l,he won't abdicate the stool and won't recognize anyone as Kadehene.

,
" When I looked at the letter ,I saw that his Majesty Okyenhene is the principal mourner-he is my overlord,I give him all the respect.Kade belongs to him but I also saw an upstart ,a pretender ,Twum Deberah dressed up as Osabarima Asare Twe ,Kadehene.That one I cannot tolerate"

Osabarima Agyare Tenadu II stated that he wrote a letter to Oseawuo to express his resentment that " there cannot be two chiefs at Kade and until the supreme court decides on the appeal pending before it ,at law, I am the chief of Kade".

However "Nana Oseawuohene has not responded my letter .It is now only one week for the 40 days .I do not want any bloodshed in Kade .Every life in Kade is very precious to me .I will not want anybody to lose his life as a recall chieftaincy dispute only two weeks ago two people died in a shootout at Adoagyiri over a chieftaincy dispute "

Osabarima Agyare Tenadu II appealed to IGP ,chief justice ,speaker of Parliament and all peace loving Ghanaians to intervene for peace to prevail.

In 2011, the Queenmother of Kade now deceased Ohemaa Akua Fosua dragged Osabarima Agyare Tenadu II to Okyeman council in Kyebi on grounds of some charges.
The Council chaired by Okyenhene Osagyefuo Amoatia Ofori Panin however dismissed the case describing it as bovys and frivolous.

Two weeks later, the Queenmother repeated same application at judicial committee of Akyem Abuakwa traditional council which a judgement was delivered after two years of trial leading to destoolment of Osabarima Agyare Tenadu II.

Upon an appeal filed by Osabarima Agyare Tenadu II which lasted 7 years, Eastern Regional house delivered judgement and directed for re-trial of the case by Akyem Abuakwa judicial committee.

However, the plaintiff filed an application at National House of Chiefs challenging judgement by the Eastern Regional house if chief

In September 29,2022 the national house of chiefs upheld the appeal but has failed to give written reason of the ruling two years on.
Osabarima Agyare Tenadu II filed an appeal at the Supreme Court but the case cannot be held due to failure by the National House of Chiefs to provide the full judgement.

Stay of execution was therefore filed at the national house of chiefs setting aside the judgement.

However few months ago, Twum Deberah the rival chief was installed as Kadehene at Kyebi and sworn to Okyenhene Osagyefuo Amoatia Ofori Panin.

He was reportedly gazetted by the National House of Chiefs however a search conducted by counsel for Osabarima Agyare Tenadu II at the Registry of National House of Chiefs suggested otherwise.

Nonetheless, his counsel filed and argued for a Judicial review and certiorari at Kumasi High Court to quash any purported installation of anybody as Kadehene which judgement fixed for October 31,2023.
Meanwhile residents of Kade township with population of about 40,000 predominantly farmers say the protracted chieftaincy dispute is retarding development in the community therefore called on government to ensure that the right things are done to restore peace and harmony to facilitate development.